One of the great things about visiting artists in their own venues at any open studios event is the insight you get from seeing inside their studios.  My first experience of this was while visiting a friend in High Wycombe about 30 years ago and it was quite a groundbreaking idea at the time.
We were both keen silk painters back then and we included other silk painters on our shortlist of who to visit.  The studios ranged from a tiny back bedroom, to converted outbuildings to a massive warehouse where they screenprinted outlines onto silk, then had a team of artists colouring in the designs.  The warehouse left me cold, I was much more inspired by the small studios where the artists were so generous with sharing their ideas and inspiration.
So today I am sharing a quick tour of my studio and some of my ideas and inspiration.
The studio is pretty small, probably what would have been the dining room originally.  I do wonder if there's a boarded up range between the two alcoves you can see on the back wall – there's obviously a hearth under the carpet as we had to add some padding underneath the floor standing shelves. 
There's no sink and the light isn't great, so  I invested in some good quality lighting with neutral temperature bulbs and it's a very short walk to the lootility room (combined loo and utility).   I still dream of somewhere I don't have to cover the carpet before I start painting, and a bit more space for storing all my works in progress (I'm a slow painter) but I'm sure that will come in time.
Sketchbooks
I have lots of sketchbooks.  Different sizes, different types of paper, different bindings (sewn, spiral or glued) and they get used for different reasons.  The best ones have heavy watercolour or mixed media paper, usually glued on four sides as a block.  These are the ones I use for creating finished pieces as the paper is good enough quality to take a fair bit of paint and still be flat enough to frame.
I'm not keen on spiral bound sketchbooks these days as I've had pages come loose and fall out too many times.  I like a well made book like a watercolour paper Moleskine, but they are quite expensive, so I also use cartridge paper sketchbooks that you can pick up cheap at places like Hobbycraft.
You can see some of my seascape sketches in this blog post.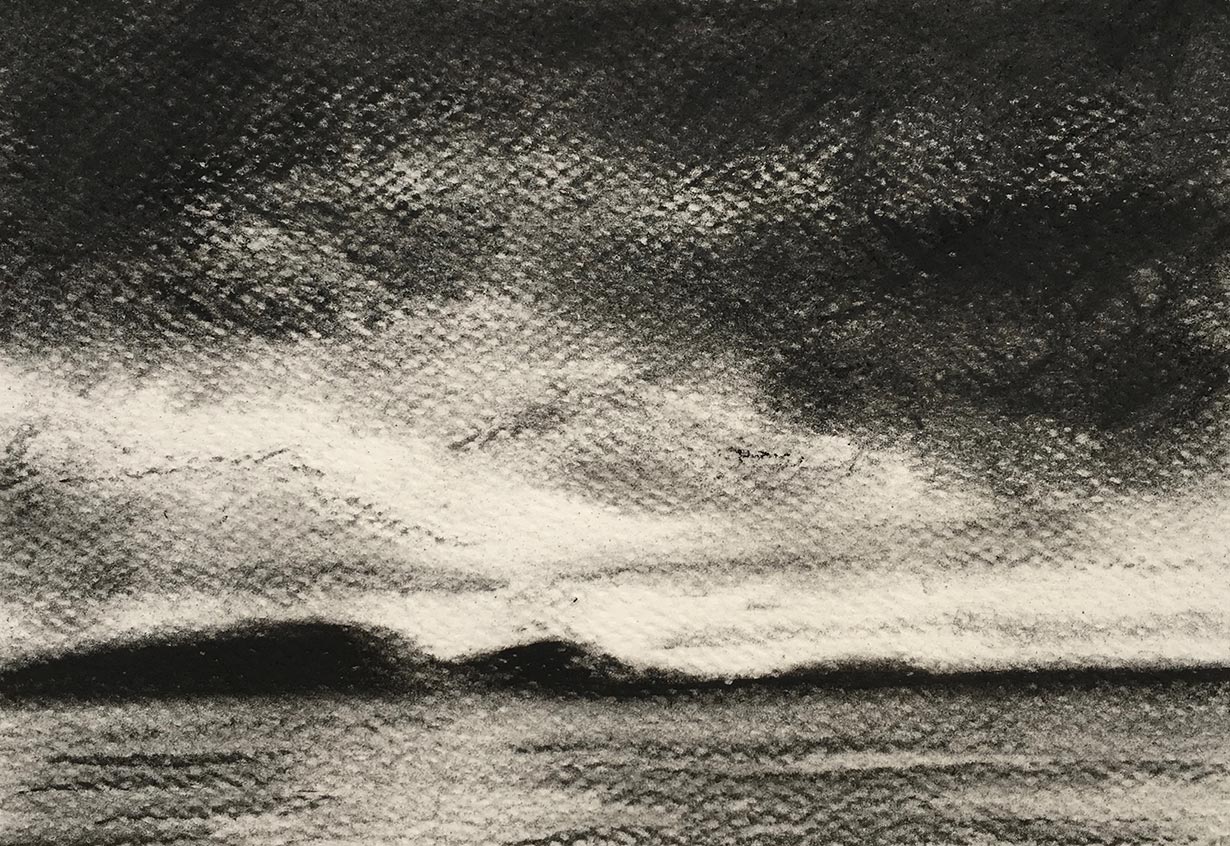 Acrylic paint ice cube palette
One of the pages in my sketchbook refers to these ice cube trays that I mentioned.  These are silicone based plastic ice cube trays which come with a lid and I use them as a 'stay wet' palette for heavy body acrylics.  Each compartment holds a single colour and I tend to group warm and cool versions of the same colour next to each other, eg cadmium yellow (warm) next to lemon yellow (cool).
I spritz the trays with water before putting on the lids, then I place them inside another plastic box and spritz them again before placing a damp teatowel over the top and closing the lid.  They stay fully workable for months like this, you just need to rinse out the teatowel from time to time to stop it getting smelly.  It's a great way to have my frequently used colours to hand, ready to go without thinking.