Garden Inspirations Workshop
Early Bird pricing until July 17th
This is a two day class taking place on Saturday 30th July and Sunday 31st July .  See full details below to see what will be covered on each day.
Class runs from 10.00am – 4.00pm each day
The price includes a light lunch, tea & coffee and all studio materials.  You will need to bring your own sketching supplies, see full description below.
Children over 12 are welcome if accompanied by a responsible adult.
This is a two day class and you will get the most out of it if you can take part on both days, but if you can only attend on one of the days, I've given an outline below of what to expect each day.  With a maximum of four students, I will be able to adapt the exact content to suit each students needs and ability, so there may be some overlap if needed.
We will work with a variety of water based media in the studio, mainly acrylics, but you will also have access to other media such as watercolour, charcoal, inks, pastels, pencils, markers, water soluble crayons and a range of acrylic grounds and mediums to add variety and texture.
---
What to bring with you
All art materials will be provided in the studio, but you need to bring the following with you for the Saturday sketching trip:
A camera, phone or tablet for capturing reference photos (remember to charge the battery!)
A sketchbook to jot down ideas (A5 size or bigger)
Any favourite drawing tools – pens, pencils, charcoal, etc
Your Botanic Gardens membership card if you are a member
For working back in the studio, you may want to bring an apron or protective clothing
---
Saturday – sketching morning at Logan
We will meet at 10.00am in the car park at Logan and take a walk around the garden with sketchbooks and cameras to capture impressions and viewpoints. Along the way I will take you through some structured sketching exercises, looking at tonal values, mark making and composition.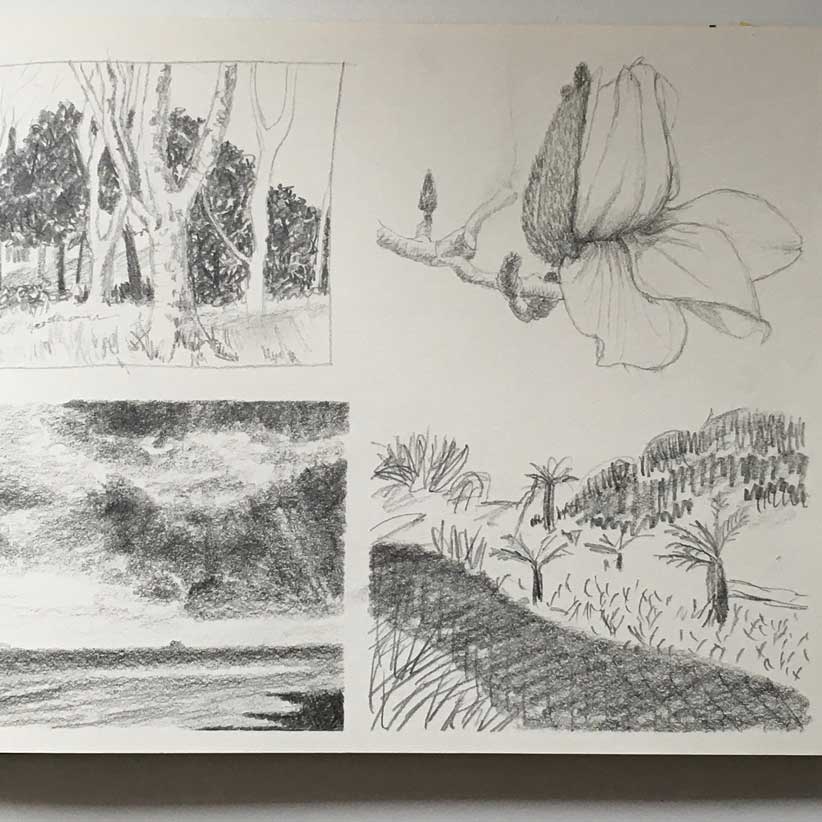 Please wear suitable footwear and be prepared for the Scottish weather. Click here to check the weather forecast for the area.
Back in the studio after lunch, we will look at ways to simplify what we see in the garden and develop ideas from your sketches and photographs.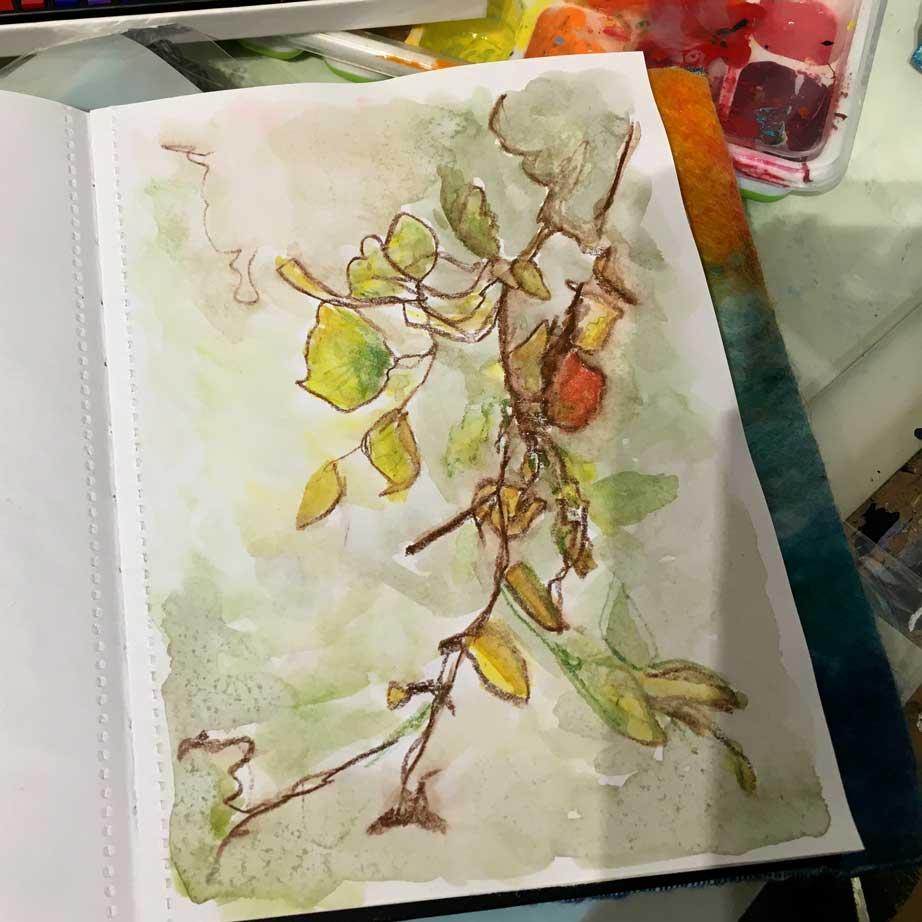 We will then look at ways to prepare your surface with colour or texture and look at how to transfer your sketches to paper or canvas board.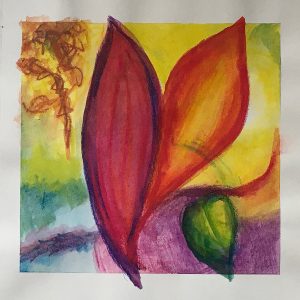 ---
Sunday – studio day
Sunday will be spent in the studio, so you will need to bring your own sketches or photographs if you are not able to join us on the Saturday sketching trip.
We will begin with some colour theory and practical colour mixing exercises, with a particular focus on how to make a wide variety of realistic greens – the predominant colour in most gardens.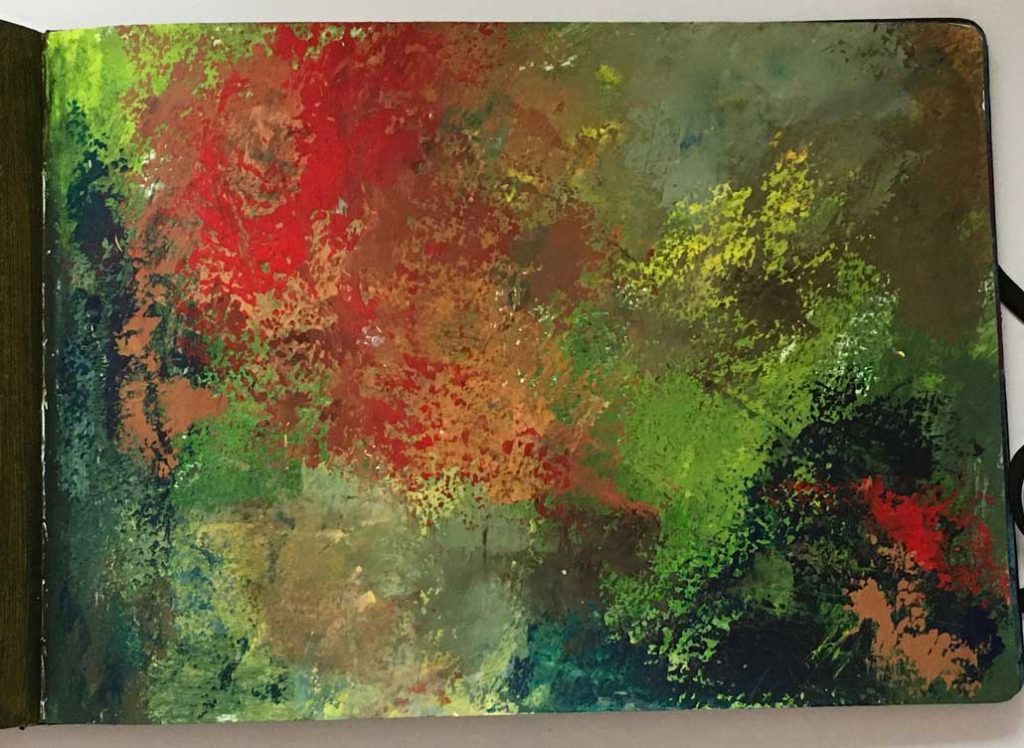 You will have the chance to try out different ways to apply paint such as palette knives, scrapers, rollers and other less conventional materials and if you want to, you can have a go at creating monotype prints using a mixture of drawing and actual plant material from the garden.
You will then spend the rest of the day working on your final painting before wrapping up with a friendly group 'show and tell' to see what everyone else has produced.
---
To book your place, choose from the one or two day options in the drop down box, then add the workshop to your cart and proceed to checkout.  If you have any questions, feel free to send me an email or catch up with me on Facebook.