Art Journals
I have shared my journals at open studios and exhibitions before and people are often fascinated by them, so I thought I'd share why I keep an art journal and how it's helped me.
I kept a visual diary back when I was doing an art foundation course and that was a cross between a scrapbook, a sketchbook and an ideas notebook.  If I visited an art exhibition, I would paste in the programme or a postcard or two, maybe even sketch one of the paintings and make some notes about what I liked or didn't.  I'd add in pages torn from magazines, photos, drawings and anything that I found inspiring or stimulating.
My art journals evolved from the visual diary, but became less about external influences and more about internal processing of ideas.  After going through a very stressful and difficult time, it is obvious now that they very definitely became my own self-taught version of art therapy.
I would often start with uncensored writing, blurting out negative feelings across the page.  I would then work over the writing, covering it in layers of paint and collage, working to create something colourful or calming, literally obliterating the negative and bringing positive and uplifting images and ideas to the forefront.
I collected collage material in a large box I called my 'journal fodder' so I had material to hand when I needed it.  I would go through magazines cutting and tearing out words and images.  That in itself would often be a soothing and mindful process.
Sometimes the writing be the focus, a single sentence or a two page analysis of my feelings at the time.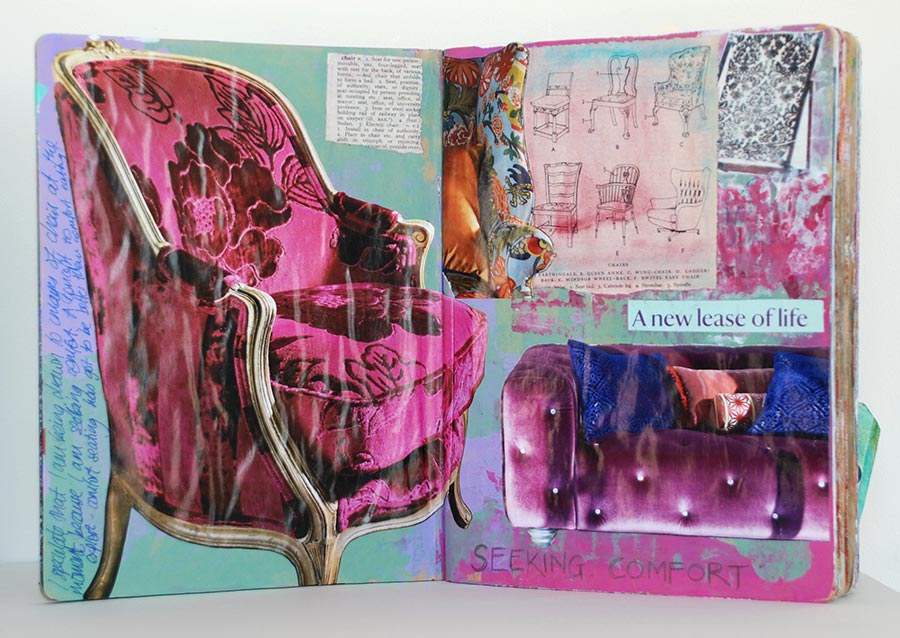 Sometimes I would find myself drawn to a particular subject or image.  During a few years we were renting a house, I found images of chairs appearing in my journals a lot and eventually worked out that it represented my longing to be settled and rooted in a home of my own again.  At least, that is my interpretation, who knows, someone else might think the chairs represent a throne and I have delusions of grandeur!  But at the end of the day, the journal is a private place for self expression where the views of others are irrelevant.
I found a couple of old YouTube videos from 2014 showing me creating part of a journal page.  It's not the complete process, but might give you an insight into how I go about preparing the page.  In the second video, you see me begin to sketch out and paint a figure, but I don't think I explained that after that was dry, I cut it out and added it to the page with gel medium.
Today is the last day of Spring Fling 2020.  This would normally be the biggest earning weekend of the year for me, so if you would like to support me, you can buy my work here in the shop.
Thank you so much for being here this week and for all your lovely comments.  I hope you have enjoyed all the Spring Fling blog posts, if you've missed any, you can find them all here.