How to order
All products can be purchased easily and securely through the online shop using a credit or debit card or using your PayPal account.
If you need any help prior to purchasing, please email me and I'll be happy to help.
For example, you may want to get an idea of how a painting or print will look in your own home and I would be happy to create a mock up of how that would look if you send me a photo of your space.
Payments
The online shop uses Stripe and Paypal to process payments using the very latest secure encryption technology, so you can pay by credit or debit card or use your PayPal account.
I never see your card details and do not store them in any form.
I am also happy to accept payment by bank transfer in the UK, please email me for further details.
Money back guarantee
If the artwork arrives and you're not satisfied with your original purchase for any reason, please notify me of your intent to return the work for a refund no later than 7 days from the date of delivery.
You may return any eligible artwork, provided that it is returned to me in its original condition and packaging.
The 30 Day money-back guarantee is NOT applicable to:
Clearance items
Custom framed paintings or prints
Hand finished prints
Commissioned work of any kind
For more information, see the Returns section below.
Delivery times
I always try to ship orders out the same day I receive them if I can, but if not, then within 1-2 working days.  If there is a delay for any reason, I will be in touch to let you know.
The time it takes to get to you will depend on your location and which shipping method you have chosen.
UK Shipping
Shipping is calculated based on the type of products you have in your order and the combined weight of all the products in your order.
You will be presented with a set of shipping choices when viewing your cart or during the checkout process and once you enter an address, the rates will be calculated for you. 
International Shipping
I do ship internationally, but at the moment, the shop only has shipping rates set up for the UK, so you will need to email me your address for a shipping quote.
Duty and Tax
You will be responsible for any tax and customs duty that is applicable.  It is standard practice when buying from anywhere outside your own country and the amount of tax and duty will depend on trade agreements in place between our two countries.
I cannot tell you how much that will be, so you need to inform yourself if you are concerned about possible costs.
l will not refund my shipping charges if your failure to pay tax or duty results in the order being returned to me.
Can you mark the item as a gift?
Much as I'd love to help, I'm afraid that would be illegal so I can't do that.  For some countries, you still need to pay duty or tax on gifts anyway.
I've changed my mind, can I return something
If you're not absolutely delighted with your purchase, you can return it within 30 days and as long as I receive it in a saleable condition, you will be entitled to exchange or a full refund of the product price.  You will need to pay the postage fees to return it to me.
If you would like to exchange the item for something difference, any resulting extra cost will need to be paid by you, or if the new item is of lower value, then I will issue a partial refund for your overpayment.
What if my order arrives damaged?
I take every precaution to make sure that all products are securely packaged to give them as much protection as possible on their journey to you.
If the item is damaged, please notify me within 3 days so I can lodge a complaint with the postal service or courier.  Please take photographs of any damage, both of the external packaging and the contents and send them as soon as you can (it helps us with insurance claims).
Once I have photos, I will be in touch with details of how to proceed, but rest assured, you will never be out of pocket if something is damaged in transit.
If it is possible, I will exchange the item, but if that is not possible then we will issue a full refund.
What if my order never arrives?
Original paintings, large prints and valuable items are always shipped with tracking, so it is very rare for something to get lost in the post.
I do have to wait a minimum period before I can put in a claim for a lost package (it varies according to which carrier is used) so please allow 7 days before getting in touch.
Always remember to check your garden, outbuildings or anywhere else that could be used to leave a parcel and check with your neighbours too in case it has been mis-delivered.
In the past, I have known mis-deliveries caused by typos in house numbers and postcodes, so please check the shipping address on your order for errors.  Unfortunately, I cannot chase up a lost package or offer any refund if you have provided an incorrect address.
Arrange a Return or Report a problem
If something goes wrong, I will do my best to sort it out quickly.  Please use this form to let me have as much information as possible and I will get back to you with details of what steps to take next.
Please do not post the item back first, as in some cases, it may not be necessary and you will incur unecessary postage charges.
Do you do Gift wrapping?
Yes I do!
I can also include one of my greeting cards with a personalised message from you and ship the whole thing to the recipient of your gift.
If you want an item gift wrapped, please let me know in the Order notes box at checkout, or send me an email to let me know what you want wrapped.
I need a gift shipped to someone, can you help?
I'm always happy to collude with gift buyers to get the right gift to the right person at the right time.  You can place your order as normal and choose a different shipping address to your billing address.  You can also add a note at checkout with any special instructions.
As well as gift wrapping, you can also add a card from my range of greeting cards and I can write a message in it for you.  Or if you're one of those clever organised people, you can send me a card to include with the order ahead of time.
If the recipient is not in the UK, there will be a customs form on the outside of the packaging stating a value of the items within, but other than that, I will only include a dispatch note that has no prices on.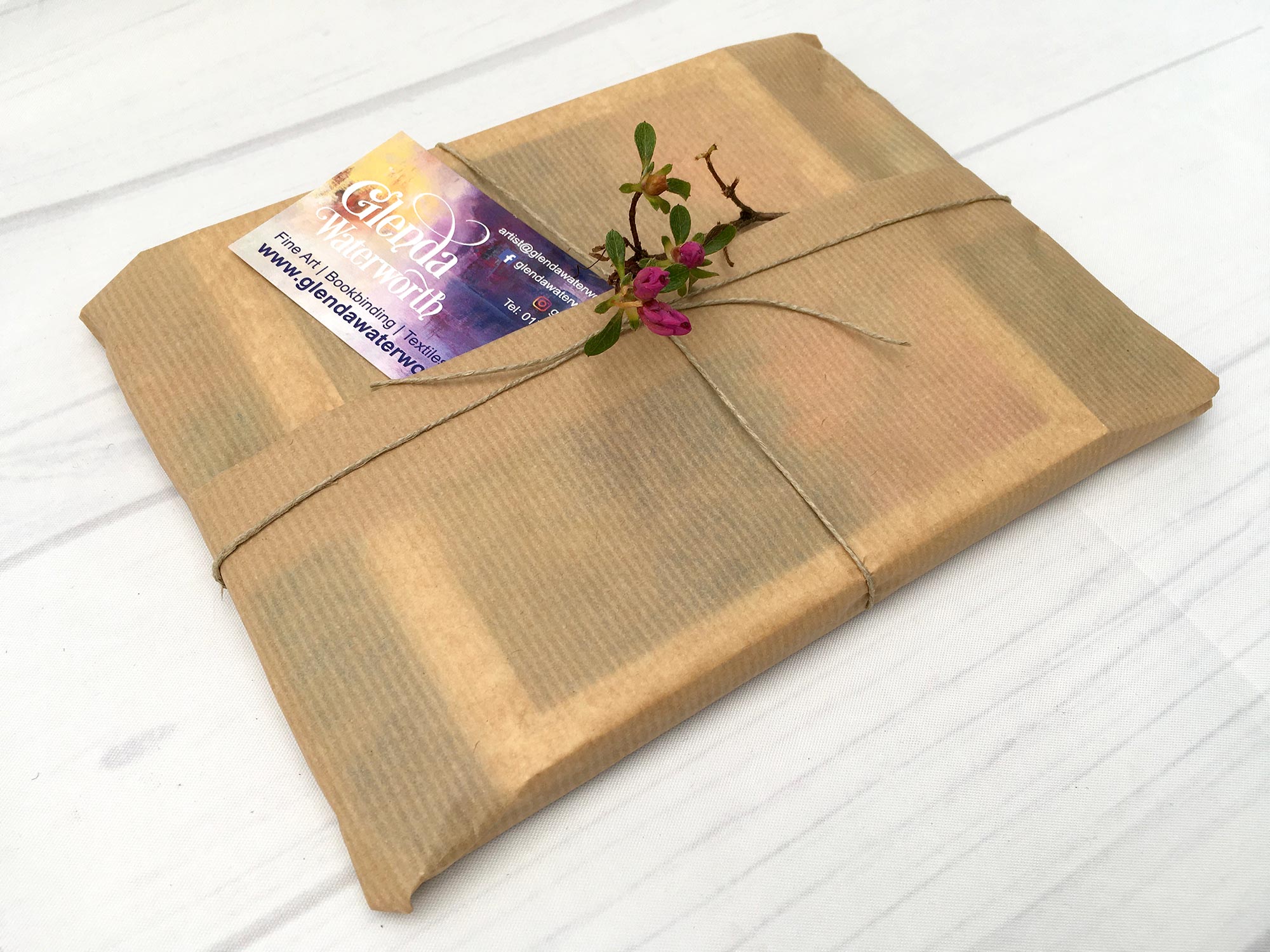 FREQUENTLY Asked Questions
Can I reserve a painting?
If you need a little time to make a decision on a painting, I will be happy to mark it as reserved for up to three days, as long as there is no other prior interest registered.
Just email me with the details of what painting you are considering and I'll do the rest.
This only applies to original paintings – prints, cards and other products cannot be reserved.
Can I visit and see your paintings before I buy?
Yes you can!  If you are local or visiting the area, I'm more than happy to arrange a visit and let you take a look at all the work currently available.  Please call me on 01776 840656 or email me to arrange a convenient time.
What materials do you paint with?
I paint in acrylics, oils and watercolours and often incorporate other media such as fluid inks and heavy texture media.  I do favour water based media and use water soluble oil paints which are easier to clean up.  I often use collage and more recently have been mixing in textile elements such as fused silk paper.
Is your studio open to the public?
I don't have regular opening hours, but check the Events section of my blog to see if we're running any Open Studio events while you are here.
If not, I'm more than happy to arrange a visit and let you take a look at all the work currently available.  Please call me on 01776 840656 or email me to arrange a convenient time.
Do you accept commissions?
When it comes to paintings, the short answer is no.
I could write an essay about why not, but basically I found working to someone else's brief stifles my creativity and results in more stress than it's worth.
I have done commissions in the past that both I and my customer have absolutely loved, so maybe in the future, I will re-visit the decision, but for now, I only accept dyeing commissions.
Can you do custom size prints?
No, not at the moment.  Some prints come in two different sizes, but in general, prints are either identical in size to the original painting, or scaled down very slightly to suit a standard size frame.
All prints show the dimensions of the print and if applicable the external size of the mount or frame.
Do prints come with a mount?
Most prints come with a simple ivory mount and are shipped between two pieces of card to protect the mount and print in transit.
Large prints are difficult to ship flat and it is often safer to gently roll and ship them in a large postal tube.  I recommend removing the print from the tube immediately and putting it somewhere safe where it can relax naturally before framing. 
All paper has a natural grain and rolling against the grain is what causes paper to develop cracks.  As a trained bookbinder, I know how to find the paper's grain direction and roll it the right way so it doesn't cause cracking.
A good picture framer will be able to sort out any residual curl before framing.
Can I change the frame?
Most of my paintings on paper or flat canvas are professionally framed and difficult to change.
If you want a different frame, then I would recommend taking it to a local picture framer where you will have a choice of frames and mounts that you can try out against the painting.
Gallery wrapped canvas paintings are sold in either a traditional frame or a floater frame (both unglazed) and these are easier to change, so I would be happy to discuss options if you wanted a different frame.  Please call or email me to have a chat about it.
Occasionally I will list new paintings before I have framed them and show a range of "mock ups" showing the painting in different frames.  In that instance, the painting will also be available unframed, ready for you to take to your local picture framer where you can get the exact frame that suits your taste and decor.
Are paintings ready to hang?
If you buy a framed painting or print, yes it will be ready to hang.
Larger paintings have D-rings on the back with a hanging string tied around them. 
Some of the smaller prints are framed in simple frames which have a single metal hanging loop on the back.
Occasionally I will list new paintings before I have framed them and show a range of "mock ups" showing the painting in different frames.  In that instance, the painting will also be available unframed, and in that case, it will not be ready to hang, but you will need to get it framed yourself.
If a print is listed as 'mounted', then it is not framed and therefore not ready to hang.  Most prints are not framed, but some are available with framing options.
How are the fine art prints made?
I start by using professional services to capture my original paintings, either by detailed scanning or large format photography.
I then use a printing firm approved by the Fine Art Trade Guild to produce a high quality giclee print.  That means they have been printed using the best quality pigment inks onto archival paper.  
I favour a Hahnemühle German Etching paper which is a traditional mould-made copperplate printing paper, complete with an matte inkjet coating designed especially for fine art applications.  It has a beautiful velvety tactile feel and allows all the subtle detail of the original to show up in the print.
Do you offer any discounts?
I do occasionally run promotions and offer coupon codes to my mailing list subscribers.  If you'd like to get on my VIP list, you'll see a sign up box at the bottom of the page.
I do not accept 'offers' or negotiate on prices on my artwork.