CREATIVE WORKSHOPS overview
In-person Painting workshops
Dip your toes in the world of art and let me show you the media and techniques that I use in my studio.
I don't focus on drawing or exact reproductions, my goal is to help you explore a variety of media and develop confidence working on an intuitive level to express emotion and a feeling for a subject, rather than reproduce a photograph.
I am happy to teach all levels, from beginners just starting out, to experienced artists as part of your continuing professional development.  I'm more than happy to help you if you're feeling blocked or want to loosen up.
Join my mailing list to get notified of 2023 workshops.
Introduction to Mixed Media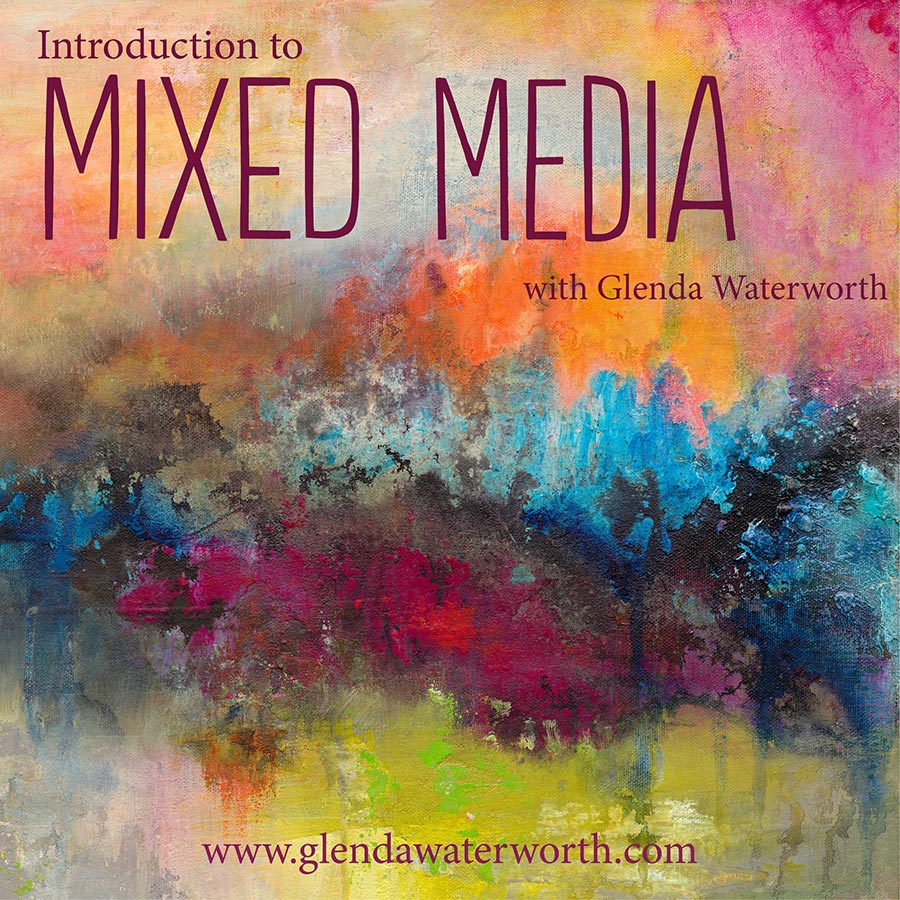 Introduction to Mixed Media
Learn how to create diverse effects such as faux encaustics to chalky frescoes with acrylic grounds, and mediums. You will leave with a range of swatches and samples to refer back to and a deeper understanding of how mixed media can enhance your painting.
Price: £95 – includes lunch, tea & coffee and all materials
One day: 10.00am – 4.00pm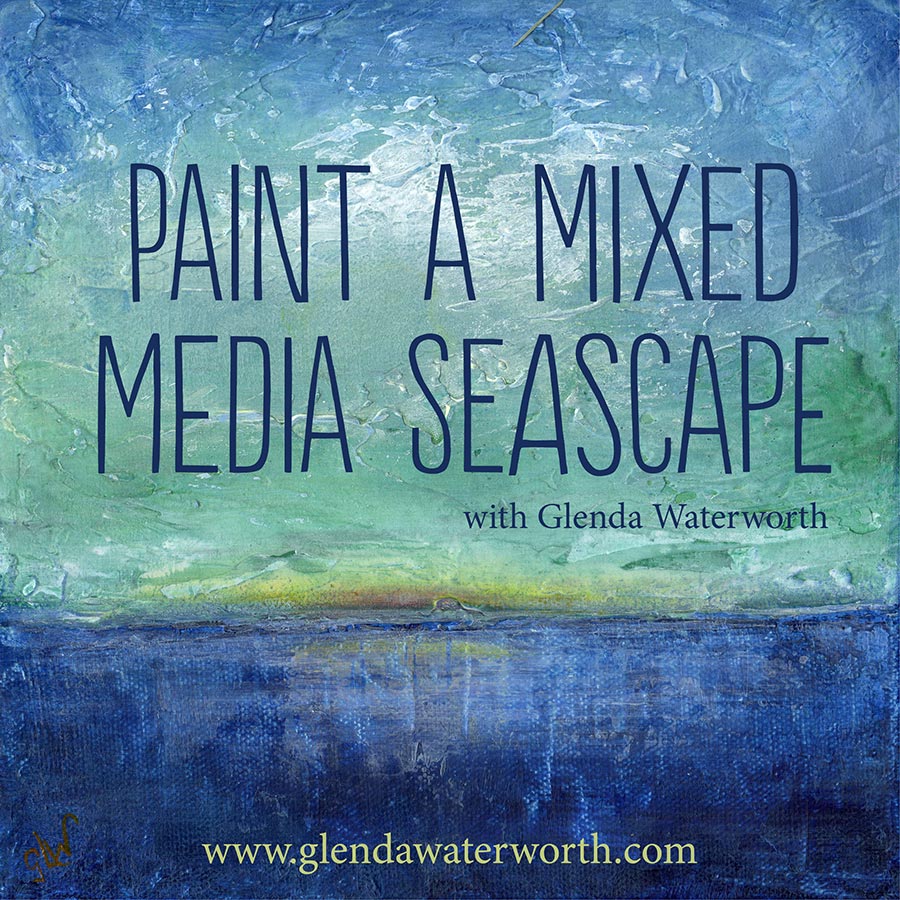 Mixed Media Seascapes
Create a seascape scene using acrylics and mixed media. We will cover colour mixing, composition and perspective tricks, to create a loose and expressive work of art.
Price: £95 – includes lunch, tea & coffee and all materials
One day: 10.00am – 4.00pm
Garden Inspirations
This is a flexible class which can begin with a short sketching trip to Logan Botanic Gardens in the morning, followed by an afternoon painting in the studio.  Alternatively we can work in the studio all day using reference photos from the garden, provided by yourself or by us (Adrian is a volunteer photographer at the garden).
Price: £95 – includes lunch, tea & coffee and all materials
One day: 10.00am – 4.00pm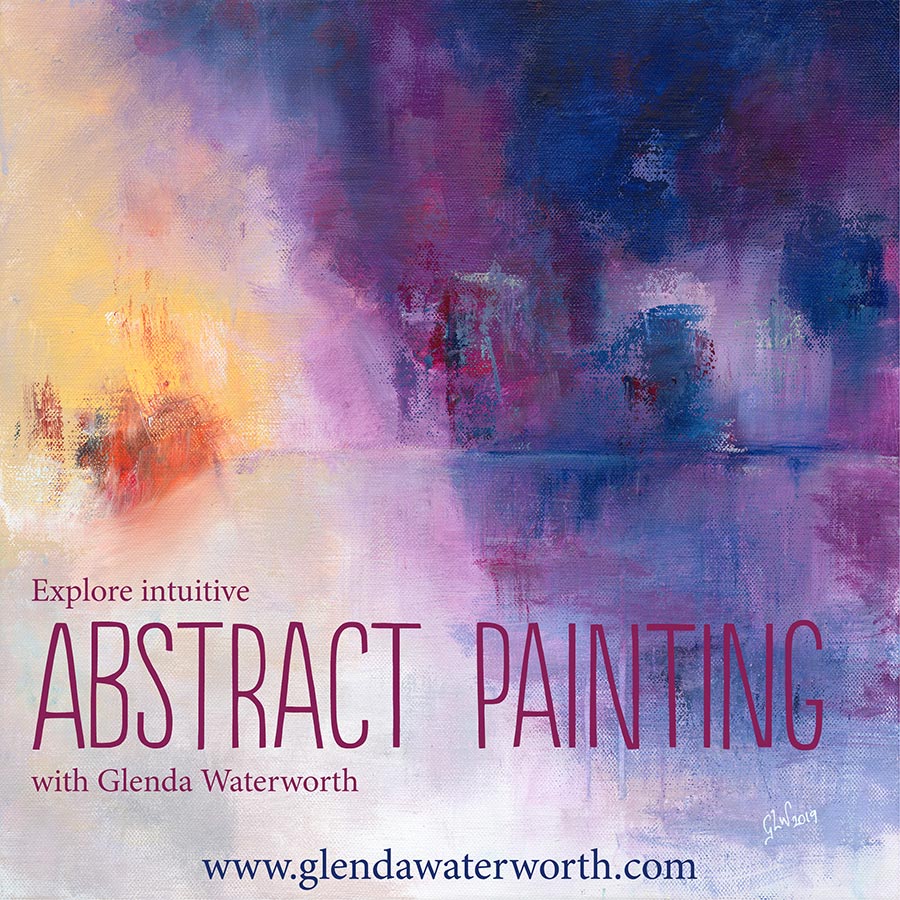 Intuitive Abstracts
Over the two days, we will work through a series of exercises and practice pieces to introduce you to the principles of composition, tone, mark making and colour which are vital to creating any artwork. Working mainly with acrylics, we will also explore working with inks, charcoal, watercolour and pastel to add depth, vibrancy and spontaneity to our work.We will also look at sources of inspiration and keeping a visual diary, with the aim of creating a finished canvas by the end of the two days.
Price: £95 – includes lunch, tea & coffee and all materials
One day: 10.00am – 4.00pm
Dyeing Project Classes
I have developed a real passion for dyeing over the last four years and I offer two half day dyeing classes to enable you to create your own hand dyed skein of yarn or silk scarf.   The two can be combined into one day if required.
Dyeing classes are only available for adults.
Dye your own Yarn
In this half day class, you will learn the basic steps needed to dye wool and other animal fibres.  We will cover colour theory, which type of dyes to use and different methods of applying the dye and you will take home a skein of your own hand dyed merino.
Price: £45
Maximum 2 students
Half day class: 9.30am – 12.30am or 1.30pm – 4.30pm
All class materials are provided, along with drinks and snacks.
Dye your own Shibori Silk Scarf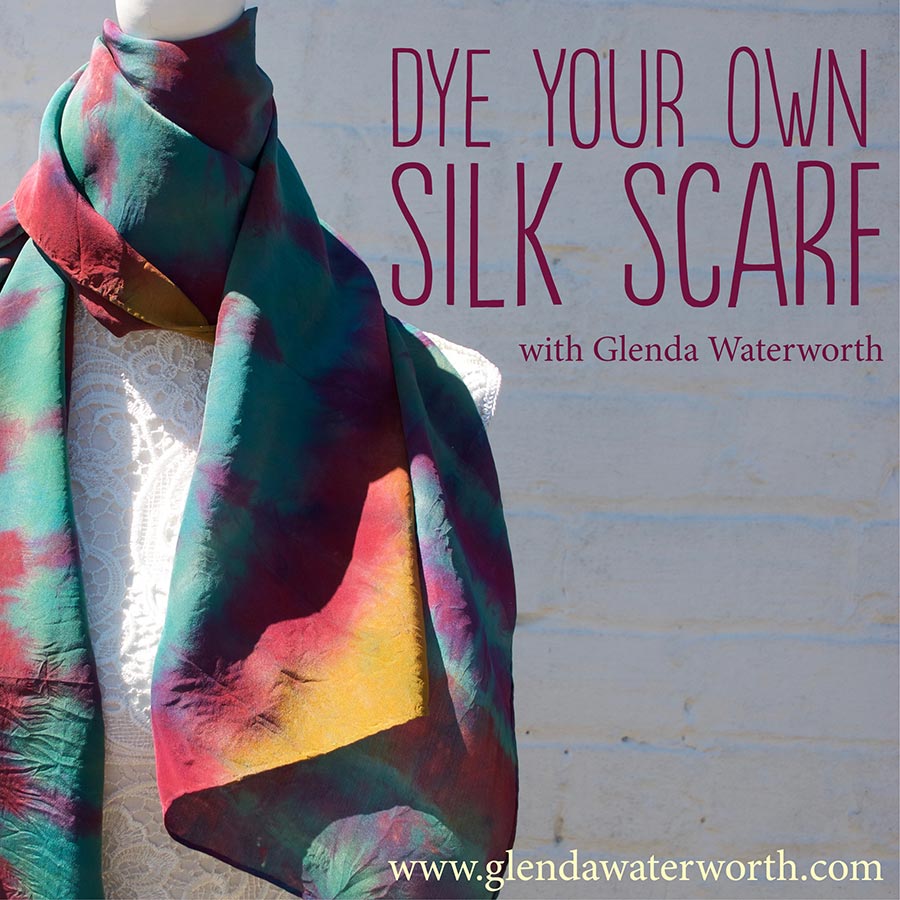 Shibori Silk Scarf
In this half day class, you will use traditional shibori techniques of pleating, clamping and tying to dye a silk scarf. You will learn about colour theory, which dyes can be used with silk and different methods of applying the dye.  You will take home your own beautiful dyed silk scarf.
Price: £45
Maximum 4 students
Half day class: 9.30am – 12.30am or 1.30pm – 4.30pm
All class materials are provided, along with drinks and snacks.
Here's what some former students have to say:
My sister Wendy and I had the extreme good fortune to be on holiday in Portpatrick when you held one of your fabulous workshops on mixed media. We were blown away at the knowledge and information on techniques we picked up and had the most incredible fun trying out the different products new to us. Wendy has written up copious notes (she doesn't trust her memory!) and has a shopping list ready for this weekend. Thank you so very much for all your help and for sharing your knowledge with us. I have been an admirer or your work for years and was blown away at actually meeting you. 
Thank you once again and I recommend anyone thinking of signing up for one of your courses or retreats – stop thinking about it and sign up for the most fabulous time of your life.
Well…just back from an Art Journaling workshop at Portpatrick Studios with Glenda Waterworth (weather was horrible – rain! LOTS of it so it was slow going at times) and can I say what an amazing and VERY inspirational day it has been! Learned an amazing amount using surprisingly easy sources of information ranging from every day surroundings, events, colours , favourite animals right up to personal situations as well as getting incredibly messy, inky and painty. Learned a lot about different mediums as well as using stencils (I am a stamper so need to expand my methods a little) ! Glenda was very inspirational and informative and her style of teaching is just wonderfully relaxed and without any pressure. It was also lovely chatting to the other ladies in attendance today (none of whose name I can remember sadly)
So if anybody out there fancies a cracking little day out with some inspiration thrown in then try out Glenda workshops ! You won't be disappointed.
Also need to give a big mention to Adrian for doing the lunch and keeping all plied with tea and coffee all day.
Thank you everyone for making my day.
Thank you Glenda for yet another brilliant workshop. It was such a friendly, inspiring group. I came away with lots of ideas and pages to finish at home. I can't recommend these workshops enough.
Had a brilliant day with Maggie over at Portpatrick Studios today. We were on a book binding workshop and I came away having made this fab note book with fly sheet. I am in AWE of Glenda who runs the studio xx
Thank you Glenda for another great workshop. Lovely group of gals and lots learnt.
Shame I had to leave slightly early – next time I'll make sure I'm going home afterwards!!!
It was brilliant, I had so much fun and learnt techniques I didn't know existed – thank you Glenda for a great time
Big thanks to Glenda – Keith and I had super fun and buzzed with ideas all the way home.
Just finished a fantastic weekend of workshops with Glenda at Portpatrick Studios. Had an absolute blast and definitely refilled my creative well. Thanks a bunch Glenda your teaching is as informative and generous as always. I recommend these classes for their sheer joy and fun plus there is so much to learn
Workshop Terms & Conditions
Most classes include all materials, but some will incur an extra materials cost, based on your choices (eg, for dyeing classes, you can choose from a selection of different yarn bases or different types of silk scarf).
Classes are designed for adults, and I am only insured to teach age 16 and older.
Classes include drinks, snacks and lunch (if longer than a half day).  We will do our best to accommodate any dietary preferences, but if you have allergies, you must tell us before the class so we can ensure no cross-contamination.  You are welcome to bring your own lunch. 
Accessibility Statement
Teaching takes place in either my studio or conservatory, both of which are on the ground floor of the house, with level access internally.
There is a small step to enter the house (7cm) and the corridor to the conservatory is 74cm wide at its narrowest.
We do have a downstairs toilet, but it is just not big enough to get a wheelchair into easily.
I will always do my best to accommodate anyone with a disability, but if I feel that my premises are not suitable, then I will suggest that we try to find a venue that is better suited to your needs.
Other points to note
We have two (timid) cats, so our venue is not suitable if you have an allergy to cats.  To keep our cats happy, we do not allow dogs or other pets.
We are a completely non-smoking property which includes no smoking in the garden.  You can smoke in the lane or path outside the garden.