I really do find watercolour one of the hardest and most unforgiving mediums to use.  Having the right paper and good brushes is a good starting point and good quality paints of course.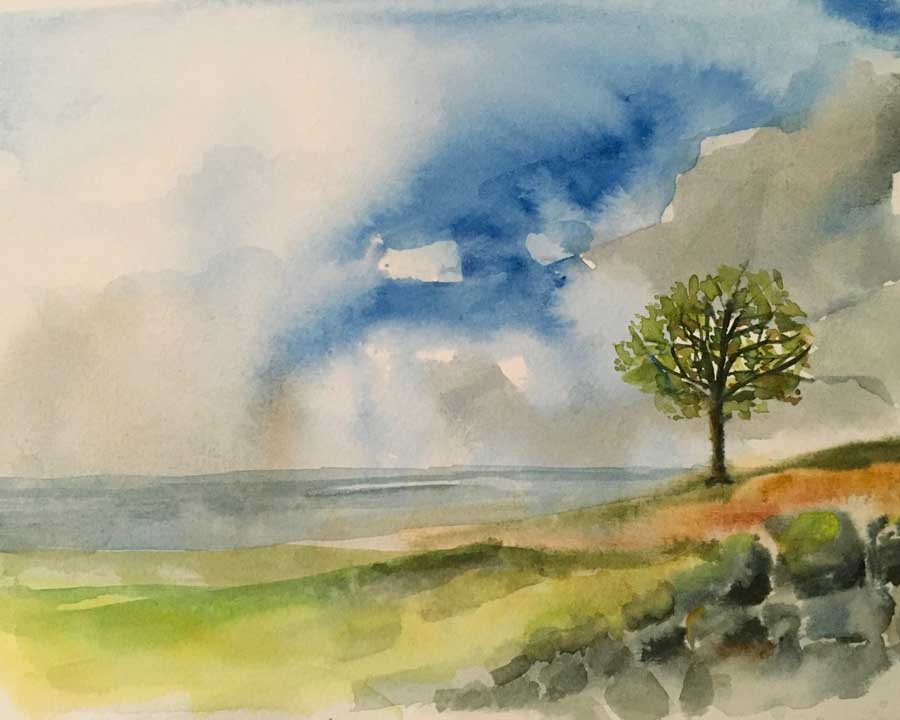 I like using them for quick sketches, aiming to capture the mood and essence of a scene. I do find it hard to stop with watercolour though and often over work it and lose the freshness of the initial sketch.  In the picture above, I added a tree that didn't exist which was a bad idea and really highlights the value of observational drawing.  If I'd been actually looking at a tree in that location, there's no way it would be that upright – most of our trees that close to the sea are bent by the prevailing wind into a much less symmetrical shape than that!
I'm much happier with this postcard sketch of Port Logan.  The haar (mist) came swiftly across the sea, casting a veil over the lowering sun and blurring the normally distinct pier and bell tower.  Using watercolour allowed me to capture the hazy blurred view as I remembered it.
This is a finished painting of the river Brathay at Skelwith Bridge near Ambleside, near my Mum's house.  I've used watercolour, Derwent Coloursoft pencils and pastel in this painting, so I'm back to my mixed media again.
I shall continue to explore what I can do with watercolour, especially as water is featuring in some shape or form in most of my work these days.