Life has been a real rollercoaster for the last two months after my husband Adrian was rushed into hospital with severe abdominal pain back in June. It turned out to be an acute gallbladder infection, deemed too risky for surgery, so after 10 very unpleasant days in hospital they fitted an external drain to the gallbladder (a percutaneous cholecystostomy), to let out the stuff causing the infection.  It did the trick and they sent him home a few days later once the infection had calmed down.
Since then, we've been playing doctors and nurses (not the fun kind!) after being trained by the community nurses on how to do the daily and weekly management of this life-saving bag that he's christened St Bagnes the Bilious. Not exactly how we were planning on spending the summer!
After six weeks, he had a scan which showed the gallbladder is still completely blocked and he was put on the list for urgent surgery.
Urgent is a relative term – mid September and still waiting.  No one can tell us when it will be as the poor NHS is still in crisis, struggling to catch up with the backlog caused by Covid. It is now in the hands of the team who schedule operations and coordinate the theatre staff and surgeons.  His operation is necessary, but not immediately life threatening so he won't be top of the list straight away.
So all of this is by way of explaining why there's not been much art related stuff going on!  Watching someone you love in pain is a bit of an inspiration-killer!
I did however, manage to run a fantastic two day workshop, Garden Inspirations, in July.
It started with a half day sketching trip to Logan Botanic Garden to gather inspiration and source material, followed up with structured exercises and painting back in the studio with three adventurous students who all enjoyed themselves and hopefully learned a lot.
I've managed to do some experimental pieces, trying out new colour combinations and new materials.  Not working towards finished pieces, just enjoying the process.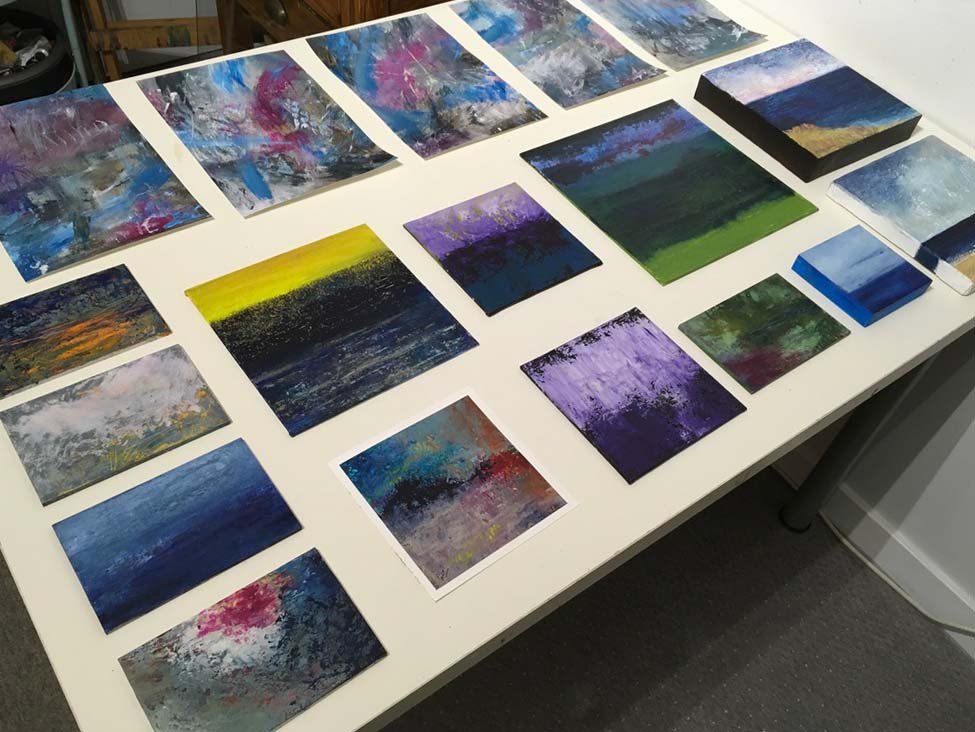 I used oils and tried cold wax for the first time – an additive that makes the oils much thicker.  They're still slippery, but the wax gets them to a touch dry stage quicker and allows for thick impasto layers.  I tried them on wood panels, a new surface for me which I rather like.  Weeks later and the thicker areas of wax are still soft, which has led to more experiments, this time with scraffito – scraping back into the wax to create marks and lines with a sharp tool.
And you'll spot some seascapes on the table – they are a constant in my artwork which is hardly surprising when I look out on the sea every day!
This artistic dry spell will inevitably last a little longer as I've got a new temporary post as a recovery room nurse coming up, hopefully a very short term assignment with a well behaved patient!
And I'm cooking up a new project, so if you're not already on my mailing list, now is a good time to subscribe – there's a sign up box in the sidebar (or below if you're on a mobile device) and at the bottom of the page.